Mark Roberts (ht: Michael Kruse) posted Blogging Like Jogging, Part 1 and Blogging Like Jogging, Part 2. It's a good metaphor and he adds more insight into blogging.
Roberts writes:
A couple of years ago everybody was predicting that blogging would take over the media world. Bloggers had toppled Dan Rather. Soon they would replace the New York Times and CBS Evening News.
Now it's chic to proclaim the death of blogging. Critics, often from the mainstream media, celebrate the fact that millions of bloggers have quit. "The end of blogging is near," pronounce the pundits, with undisguised glee.
The initial "blogging is the world" bandwagon was silly and naïve. The new "blogging is dead" repeats the silliness and naïveté in the opposite direction.
Blogging isn't the world. And blogging isn't dead, either. Rather, blogging is like jogging.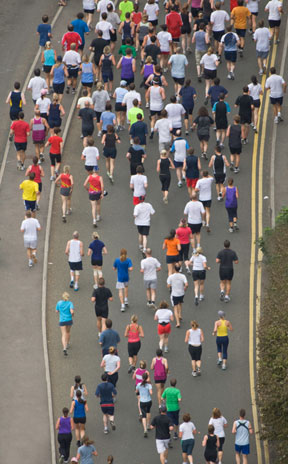 If you're as old as I am, you might remember the jogging rage. Near as I can remember, it came in the late 60s and early 70s. Everybody bought jogging shoes and little nylon shorts, and then set out to get healthy and lose weight through jogging. Many wanna-be joggers had visions of their svelte bodies winning marathons, even as the waddled along in their Adidas Viennas."